Do Perfect Fit Blinds Fit All Windows & Frames?
This system is specifically for uPVC window, doors and bi fold doors that are manufactured with internal beading and a visible rubber seal that is not an adhesive seal. Good news is that generally this requirement accounts for 95% of all double glazing units that have been fitted over the last 30 or so years providing we have a fitting depth that is between 16-30mm.
What we are looking for is visually depicted in this image where you can see that the window beading is internal, the give away is right in the corner where you observe that a mitred angle is present where the two sections of push in beading meet. After the glazing is presented the window fitter will have snapped in this beading to hold the glass in place. This is where we utilise the loose space behind the beading in order to pop in our bracket.
When a window is externally beaded you do not see this mitre joint.
IF YOU ARE UNSURE FEEL FREE TO SEND US A CLOSE UP PICTURE OF YOUR WINDOW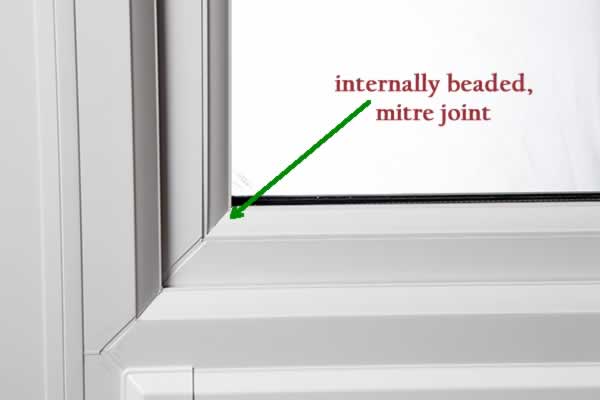 Can Perfect Fit Be Applied To Doors?

As long as the door has the above features - beading, rubber seal & required fitting depth - then yes they can be applied. However a COMPOSITE DOOR which is formed from a single piece of profile would not have beading and therefore is not compatible with Perfect Fit.
FRENCH DOORS with the required features, not a problem, as they are individually glazed. SLIDING PATIO DOORS that overlap require at least 35mm gap between them when pulled back to allow the frame on the fixed pane to sit in between. TILT & SLIDE PATIO DOORS create the required gap naturally due to their function so again they are inherently fine. BI-FOLD DOORS again they are okay as long as we have the desired minimum bead depth for the blind to sit in and of course the necessary internal beading.
What material are the frame and corners?
The Perfect Fit blind frame is aluminium, the corners and handles are plastic - please see a photograph below.
If you require a sample please let us know which frame/corner you require.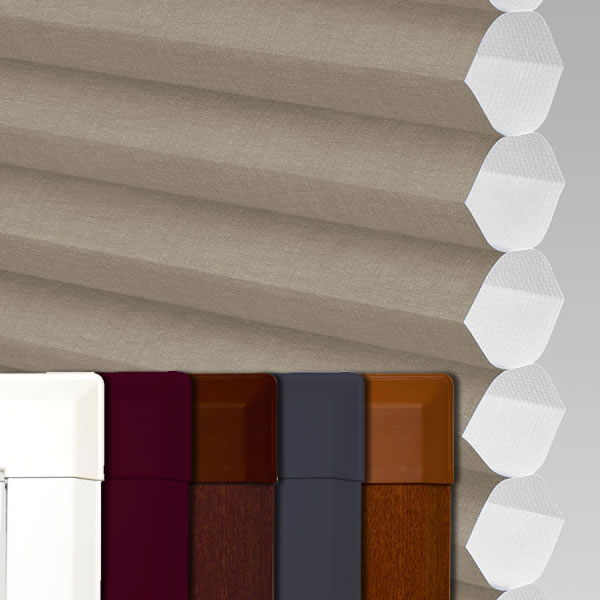 Georgian Bar Windows?
As long as the bars are inbetween the double glazed panes then not a problem when it is a qualifying uPVC frame. However when the bars are external to the glazing and form individual pane units then the bar width will not allow for individual Perfect Fit framing to sit or butt up to each other. So unfortunately the later is a situation where it is not possible to fit our product.
Likewise it is not possible to fit a single Perfect fit unit across external Georgian Bar framework in order to span the protruding bars, the blind has to sit a whisker away from the glazed unit itself.